Looking for a new packaging design?
Custom Corrugated Boxes
Have you ever had your product damaged in transit?
Peek Packaging designs custom corrugated boxes tailored to the specifics of your product to maintain product protection in transit. If you are unfamiliar with this material, think of the brown boxes you use when moving, or the boxes your Amazon products get delivered in. Custom corrugated boxes are made in a much thicker, and stronger material than custom chipboard boxes which makes them viable for heavier products. They also provide much more burst or puncture protection that you will need as your product makes way to its end destination. Sometimes creating a custom box in a more effective size is not enough to protect the product properly. Our designers can also create custom corrugated inserts to keep your product in place or present your product nicely within the outer packaging for the end-user.
With so many stock corrugated options out there, why do I need a custom corrugated box?
Buying stock boxes can be a quick and simple process. That is until your product(s) arrive at the end-user damaged or a jumbled mess. This may end up causing your company more money in the long run! Custom corrugated packaging is tailored to your product, and our structural designers take a multitude of factors into account all the way through to delivery.
How is your product shipping? A package going through a shipping service like UPS will need different adaptations than a package shipping on a freight truck. Custom corrugated inserts can be designed for extra protection or a better presentation for the end-user. Who are the boxes shipping to? Your company, a co-packer, or the end-user will have different needs for effective delivery. If the boxes are going to be stacked, you may need a corrugated material with added burst strength to mitigate that. The size of the box may need to be adjusted if it will be loaded onto a pallet for more efficiency. You may be surprised by the amount of money that can be saved by shipping a pallet of corrugated boxes with minimal wasted space!
Corrugated box packaging allow you to print any branding or necessary information to help identify the product or brand. Custom printing can be as simple as a logo and basic product information, or as complex as full coverage. Printing corrugated boxes do have its graphic limitations so it is best to consult one of our project managers to see if your concept is viable. 
Our structural and graphic designers can work with you to come up with a custom corrugated packaging box design that takes your product to the next level! You may have a product that isn't ideal for corrugated box packaging alone. Check out our custom litho label corrugated boxes to see if this sounds like something that will work better for you instead!

COMMON CORRUGATED STYLES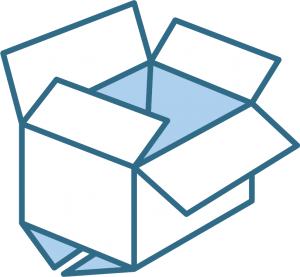 Regular Slotted Carton
A RSC is the standard shipping box you have likely used before. Four flaps come together on the top and bottom to close usually with the help of tape. The multiple layers of material on the top and bottom help give the box strength. There is no cutting die needed to make a RSC.
---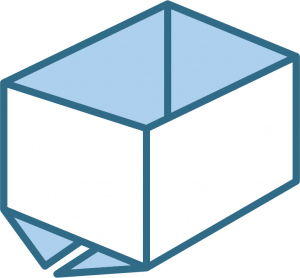 Half Slotted Carton
A HSC is very similar to a RSC except only one end has the four flaps that meet. One end is open. HSCs are usually used as a lid. No cutting die is needed for this style either.
---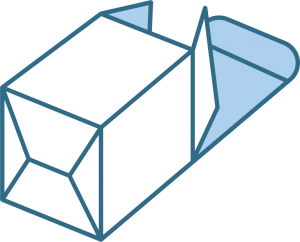 Tuck Top Snap Lock Bottom
A TTSLBTM is the same as a tuck top auto bottom but the bottom of the box is not pre-glued. It has four flaps that are folded and locked to form the bottom. This is less expensive to manufacture than an auto bottom but requires a longer assembly.
---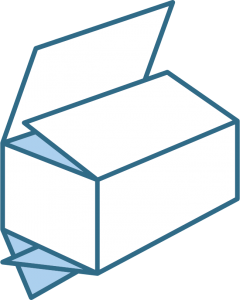 Full OverLap
A FOL utilizes two overlapping tabs on the top and bottom of the box that are adhered together to shut. In corrugated material, this style is most commonly used for heavy products, or products with potential to puncture the box. The fully overlapping flaps give you the increased strength you may need to keep your product save. FOLs are often used for custom industrial packaging.
---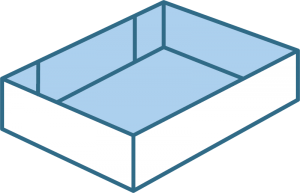 Design Style Tray
A DST is a custom corrugated tray that has a smaller footprint than other tray styles. It is often used as a simple retail display to hold several products in a very exposed way. Food packaging is a very common use. It can also be used to put on the tops and bottom of pallets for more stability.
---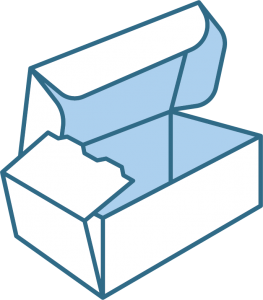 Roll End Tuck Top
A RETT is a non-glued box that closes by rolling the sides and shutting the lid with a tuck top. This can be modified to close with cherry locks that tuck into the front of the box. Because it is not glued, there is more flexibility in the sizes that can be manufactured, but it also takes longer to assemble. A RETT has a quality open box experience as the end user lifts the lid away from them showing everything in the box easily. The open box experience paired with the ability to use this as a shipping box, makes it a very popular style for custom subscription boxes.
Gallery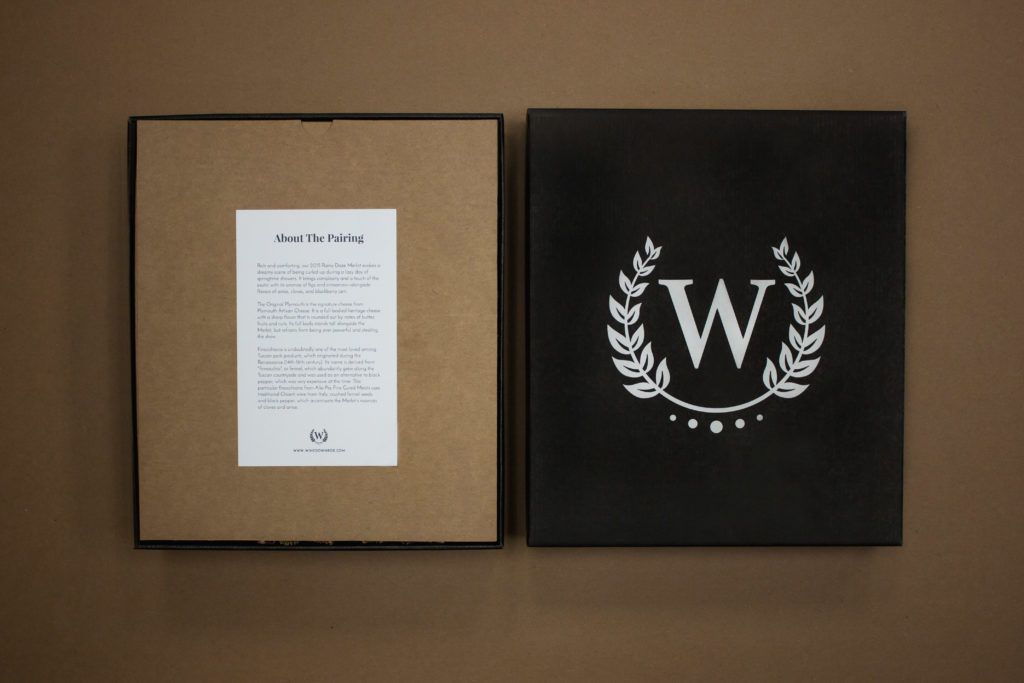 ---
Our Recent Corrugated Projects