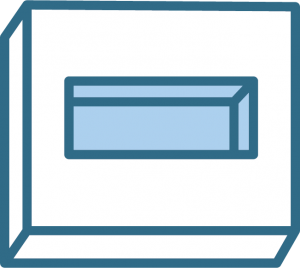 Custom Foam Diecut
These custom made inserts can be fitted inside a container such as a custom corrugated box, but they are also used in hard cases for the protection of sensitive equipment where repeated removal/insertion is required. The foam is able to be molded into different sizes, shapes, lengths, and thickness to perfectly fit and preserve the product.
These qualities make it great for cosmetics, tools, fruit, and other products that require a little more protection.
Diecut foam can be made from one of two types of foam. The first is an Expanded Polystyrene or EPS foam. EPS is made from small beads that are hot-wired or custom molded to fit your product. Whether hot wired or molded is used depends on the quantity being made and if there is enough to offset the cost of the mold.
The second type of foam used for diecuts is Polyurethane Foam which is an "open cell" foam and is used for its resilience and durability. This is a more versatile foam; it can be made into anything from egg crate style pieces to foam used in tool-kits. Based on your needs we can analyze the situation and find the perfect foam for you!
---
Custom Foam Endcaps
Made from a durable and impact resistant foam these custom inserts are typically used to secure sensitive equipment inside a shipping container. These custom foam endcaps are durable, abrasion resistant, and do not absorb water; making this a great choice for agriculture, sporting equipment, construction, and industrial items.
Even though they can be reused, this custom packaging solution is affordable enough for a one time use application.
Foam endcaps are made from a polyethylene or a "closed cell" foam because of it's durability and shock absorption. There are different color families in ths foam and each represent the weight of the foam. They are as follows: Light Gray = .90#, Green = 1.2#, Light Blue = 1.7#, Pink 1.7# or 2# and is anti-static, White = 1.7#, 2#, 4#, 6#, or 9#, and Black = 1.7#, 2# or 4#. These are not all the variations but they are the most commonly used foam for endcaps.
---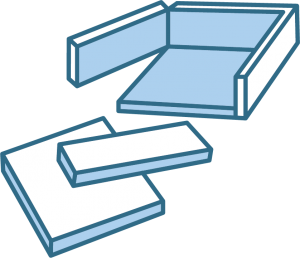 Custom Foam Coolers
These six pieces of foam (typically EPS or Styrofoam) can transform an ordinary corrugated box into a well insulated custom shipping container. Useful when packaging food items that need to remain insulated for 2-3 days while shipping. Also, the elements of this custom packaging solution will store flat in your warehouse as opposed to the alternative EPS shipping coolers.
Common uses include custom bio-tech packaging, custom food packages, and shipping containers.
EPS is an abbreviation for Expanded Polystyrene. This type of foam, is made from small "beads" and can be shaped or molded to fit your needs. One great attribute of these coolers is that they have an indefinite shelf life so you can re-use them! These offer great insulation and fill but they are not good shock absorbers, please check what you are packaging for fragility before packing with ESP. If you are packing something fragile, please look at the foam end caps, which are made with a different kind of foam that is an excellent shock absorber. Whatever your foam needs are, we can supply it here at Peek Packaging.
---
Custom Chipboard & Corrugated Inserts
There are times when an insert needs to be made for holding products in place that don't weigh very much, so foam can be a little bit of an overkill. Based on the amount of protection that is needed we can make die cut inserts in chipboard if the product is light or corrugated if the product is a little heavier. If you need an insert just to separate portions of the box then we can offer partitions in both corrugated and chipboard as well.
---
Thermoform Inserts
Thermoform trays are plastic trays that will get vacuum heated and formed around a tool to create cavities inside the tray. These trays are best used in medical fields where you can not have any particles from either board or foam flaking off to contaminate the product. Thermoform trays require a soft tool and a hard steel tool so it is a commitment as an initial investment in comparison to some of the other options for inserts but very effective.