As a Five-Time Inc. 5000 Honoree, Inc. Magazine recognizes custom packaging leader, Peek Packaging on its exclusive ranking of America's fastest-growing private companies.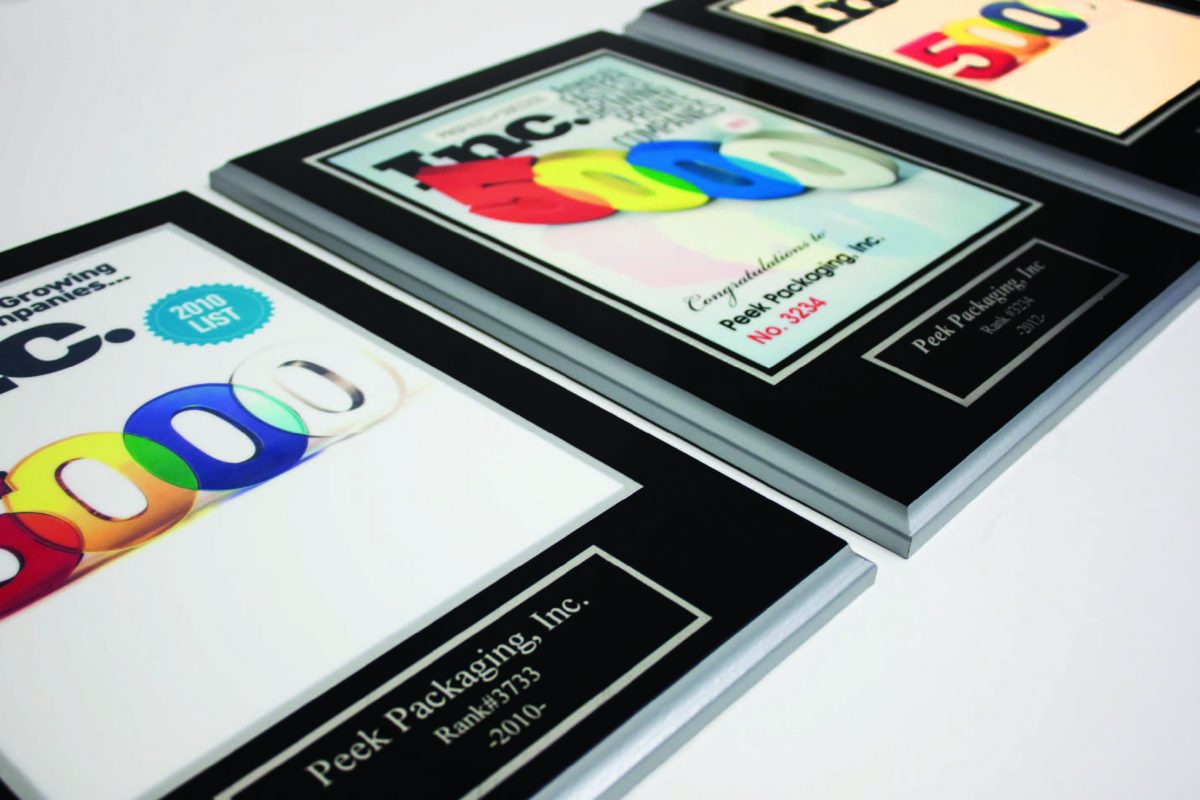 Carlsbad, CA, August, 20th, 2014 – Peek Packaging, Inc. a custom packaging design and supply company, has been honored as a Five-Time Inc. 5000 Honoree on the annual Inc. 5000 list which represents a comprehensive glance at the most important and vital segment of the American economy— the steadfast entrepreneurs and business owners. Over the past three decades, the prestigious award has been given to private companies which demonstrate accelerated growth.

Peek Packaging is among only 908 companies since 1982 who have received the Five-Time Inc. 5000 Honoree designation. "Only a tiny fraction of the nation's companies have demonstrated such remarkably consistent high growth, particularly in the difficult economic environment of the past few years," says Inc. Editor Eric Schurenberg. Peek Packaging is listed at number 151 out of the 908 total companies to reach this milestone. Other well-known brands on this esteemed list of 908 include Zappos, Under Armour, Microsoft, Jamba Juice, Timberland, Clif Bar and Pandora to name a few.

Peek Packaging posted a nearly 104 percent three-year growth rate in 2014, and ranked as the 20th-fastest growing manufacturing firm in California and 81st in the San Diego region for the fastest growing in all industries, according to the Inc. 5000 list. In the Five-Time Honoree designation, Peek ranked 2nd in California and 7th in the manufacturing industry.
"The business climate has steadily seen improvement over the last few years. Our company strives to keep abreast of innovative ideas and continue with quality products and customer driven service," said Bob Peek, CEO and founder of Peek Packaging. "As further attestation to our business model, we were recognized last month in the San Diego Business Journal's 100 Fastest-Growing Private Companies List for 2014." Among the nation's manufacturing industry and San Diego region, Peek Packaging has had a highly successful story demonstrated with the various merits and accolades.
Peek Packaging will be recognized at the October Inc. 5000 Awards Ceremony and Conference in Phoenix, Arizona.

About Inc. 5000 List
The Inc. 5000 is a list of the fastest-growing private companies in the nation. Started in 1982, this prestigious list of the nation's most successful private companies has become the hallmark of entrepreneurial success. The Inc. 5000 Conference & Awards Ceremony is an annual event that celebrates their remarkable achievements.
Inc., the only major business magazine focused exclusively for CEOs of fast-growing, private companies, delivers real solutions for today's innovative company builders. Inc. provides hands-on resources and market-tested strategies for managing people, finances, sales, marketing, and technology. The publication also looks beyond work to address the entrepreneurial lifestyle.