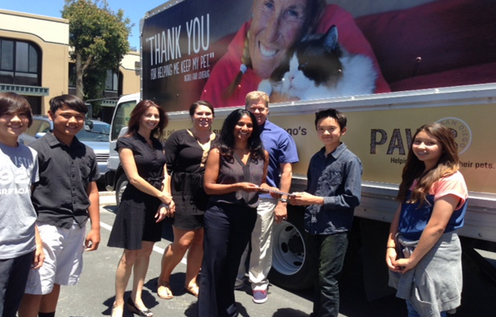 Improving upon the quality of life for other people goes hand-in-hand with running a business that strives to help others become successful. ~ Bob Peek, founder and CEO of Peek Packaging

San Diego, CA, May 29, 2014 – The specialists at Peek Packaging recognize that the quality of a business can be measured by how it enhances the community. People helping people. There is a deep sense of fulfillment and gratification when we are helping students to become model citizens and future leaders of our world.

With the generosity of Peek Packaging, students from Arroyo Vista Charter Middle School in Chula Vista, separately presented charitable donations to PAWS of Coronado and PAWS of San Diego. PAWS of Coronado works with the local animal care facility to place orphaned dogs and cats and PAWS of San Diego provides essential pet services and support to low-income seniors, and chronically and disabled individuals.
These students were involved in a year long project called Service Learning which is an educational program that integrates purposeful community service with instruction and reflection to enrich the learning experience, advocate civic responsibility, and improve their community.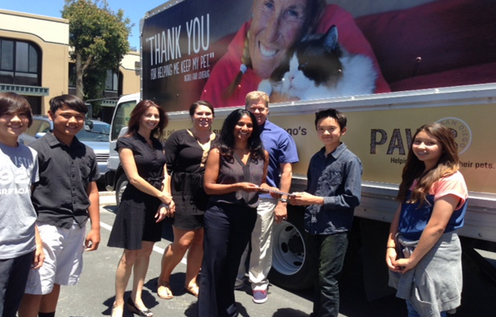 Parker Merrifield, the son of a vendor to Peek and Service Learning team member, came to the Peek Packaging headquarters and was given a tour of our custom packaging business. Parker was quite fascinated with the process, design and manufacturing of several of the custom items. He was drawn to one of the novelty packaging products which Peek ultimately donated to the kids to aid in their fundraising efforts. Peek Packagings' donation became the catalyst to a brief introduction in marketing and selling 101 as young entrepreneurs.

Meaningful service learning activities are developed through partnerships and communication between the students and the organizations that can assist them. "These Arroyo Vista Middle School students have achieved the goals they shared with me during their visit to our office and on behalf of my company I am very honored to have been a part of their Service Learning. Their efforts have impacted the lives of animals and individuals. Furthermore, facilitating the students' fundraising efforts with our novelty packaging products provided a platform to improve their social skills, analytical abilities, and civic responsibility. That makes the entire Peek Packaging family proud," commented Bob Peek.