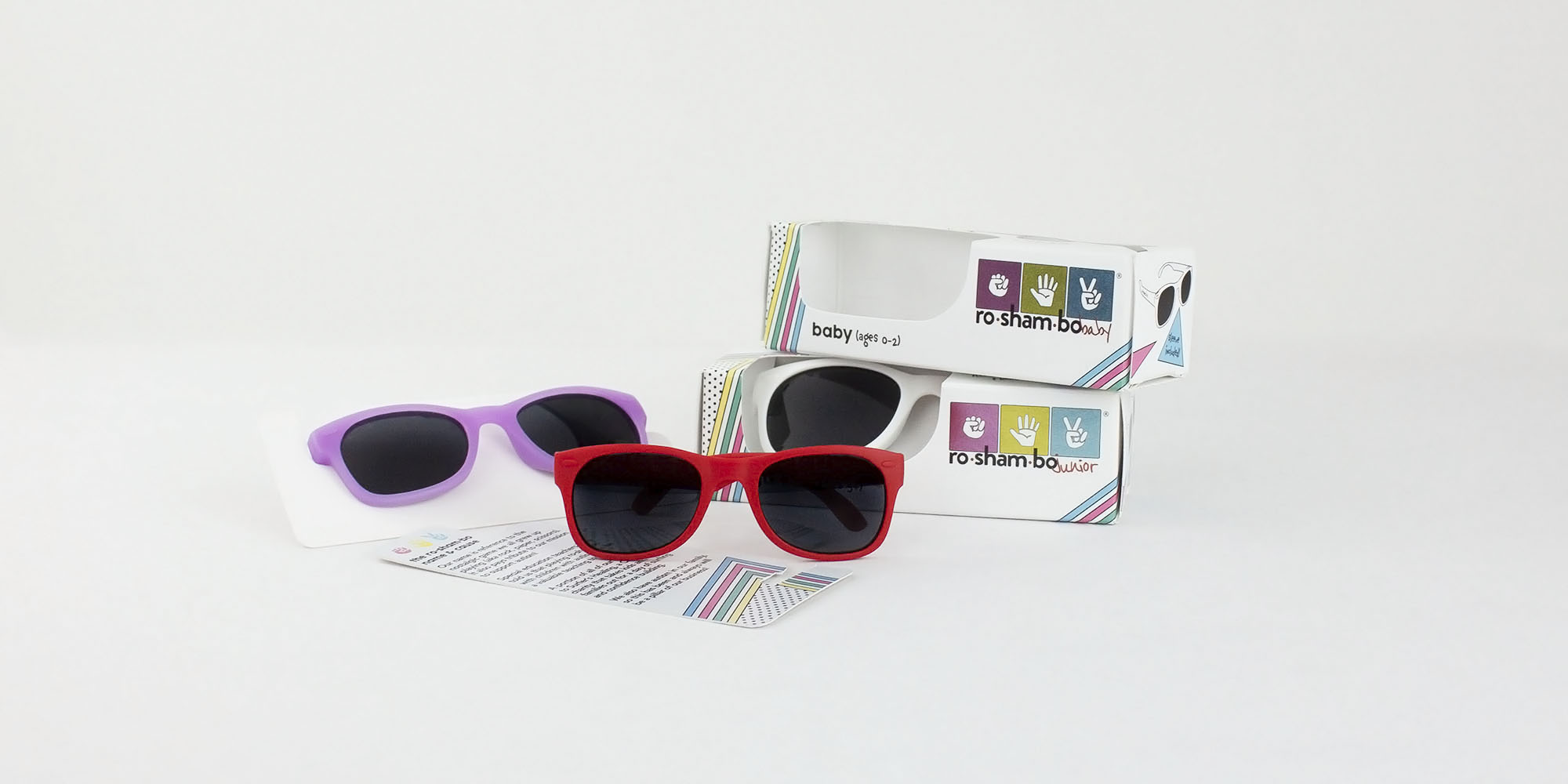 Peek Packaging successfully decreased ro-sham-bo's retail packaging cost by approximately 68% in 2020. Ro-sham-bo's chipboard retail box kit is not only new and improved, but also eco-friendly. 
The original retail packaging kit consisted of a simplex tray box style, an insert and a pvc sleeve. Each kit had a different size insert to hold the sunglasses products in place. The sunglasses were placed into the boxes straight down once the tray was assembled by hand and a pvc sleeve would slide over the box to protect the product. Customers really liked the fact that they could easily slide the sleeve off and try the glasses on, although after some time, ro-sham-bo received questions about their packaging being eco-friendly. The company knew, to keep their customers who are more aware of economical needs happy, and also participate in the movement, they would have to redesign their retail packaging.
Ro-sham-bo and Peek Packaging's design team, had the goal to create packaging that could be used for all sunglasses, increase packout efficiency and still allow for the sunglasses to be seen from the outside of the packaging without using plastic. The end result was a one size fits all same-tuck-end box with a universal insert. The box was designed with a cutout so the sunglasses color and lens shape could be seen from outside of the packaging, but also disable the product from falling out. The chipboard insert has multiple detailed notches used to hold the different size glasses in place and at the right angle. This allows for full visibility of the style of sunglasses while keeping the product secure. Ro-sham-bos' team also decided to re-brand, and created multiple versions of artwork for the box and inserts with added cold foil. 
Peek was able to decrease ro-sham-bo's cost significantly, from a 3 piece package, to a 2 piece,  one size fits all package, while upgrading the branding completely. Ro-sham-bo is not only saving in packaging costs but also in labor cost for packout. The packout originally consisted of folding up a simplex tray (tedious by hand), carefully placing the sunglasses into the tray and then sliding the sleeve component over the top. Now the simplistic style of box is folded quickly on both ends, sunglasses are wrapped around the insert and slid into the box smoothly. The new boxes look fantastic, with added color and shine!