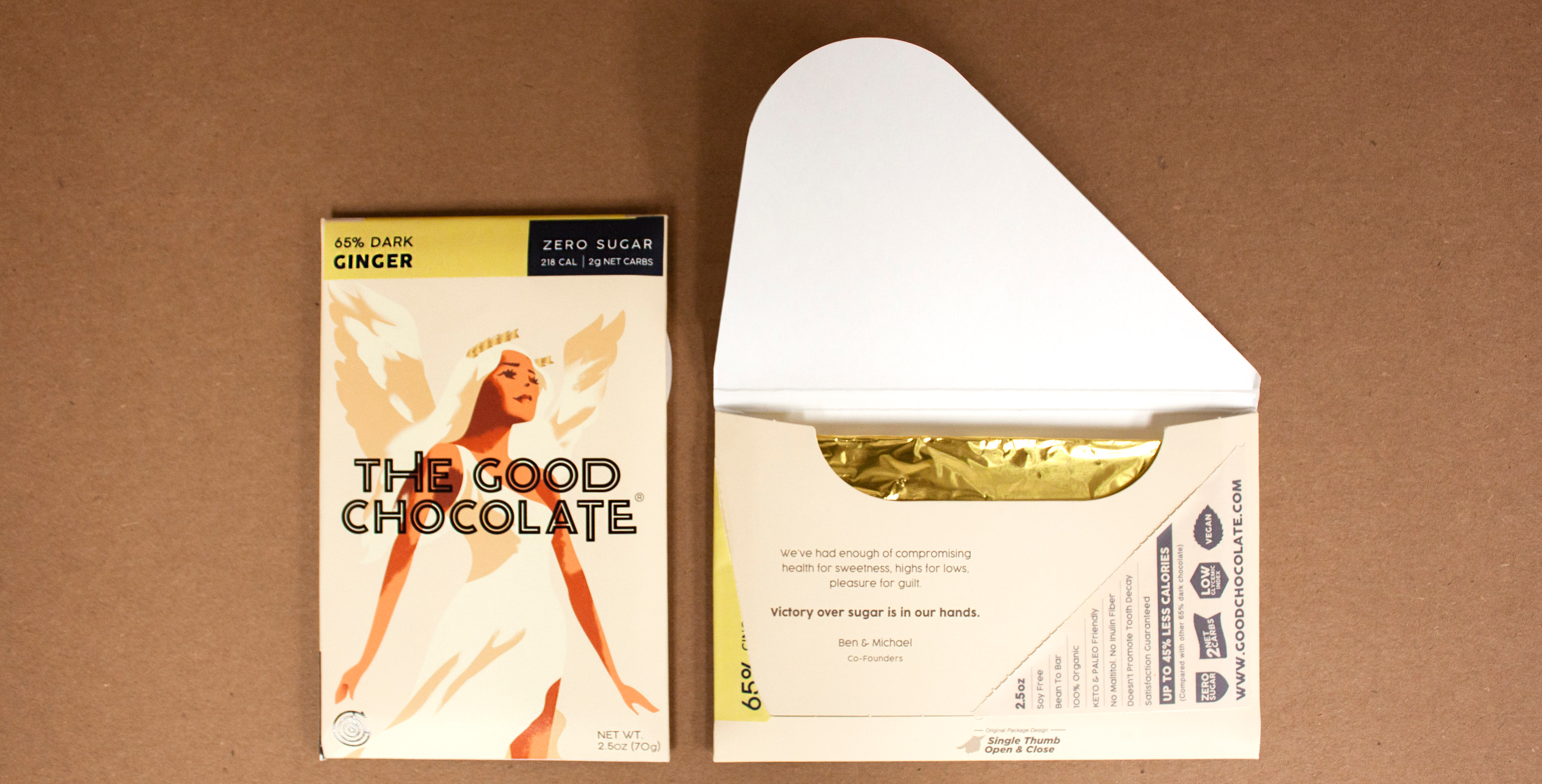 The Good Chocolate Company came to Peek Packaging with a problem many companies face. How do I make a unique packaging solution for a product already in a saturated market? This was the start of our progression to a truly different custom packaging solution for their chocolate bar.
What you typically see in stores today are chocolate bars in a fin sealed pouch loosely put into a countertop display, or a basic box individually packaged. To step out of the norm, we designed a custom chipboard envelope. The chipboard envelope presented 4 problems: shelf life, tamper evidence, clean print surface, and ability to sit upright or lay flat.
Shelf life was the quickest to solve as the chocolate bar can be wrapped in foil which has a very good oxygen and moisture barrier.
A large custom size label with a specialty perforation was designed to seal the envelope shut making it tamper evident. In order to open the package, the customer pulls a tab that is lined up with the perforation to open the envelope. The label also creates a smooth continuous surface for graphics instead of having three different sections to try and line artwork on. As with many innovative ideas, this solution came with some push back from the industry as many people thought it would fail. Some said it was too hard to line up the perforation on the envelope, while others said the label would not effectively keep the envelope shut. Peek Packaging's ability to create structural samples took the guessing away as extensive testing of different sizes and perforations gave us the confidence to move forward with this unique solution.
The next problem was how to display the product on shelves. An envelope does not have a flat edge so it can not stand upright. It also is slightly bowed so it does not lay flat effectively, and the graphics do not show well in this orientation either. The solution was an angled back display in corrugated material. The angled back allows the envelopes to lean back so they do not fall forward in the display. Corrugated material gave the display the strength to stay upright. Later in development, a kickstand was added to the back of the display to give the display more balance.